skin & beauty services in Bedford
Dermaroller skin rejuvenation
A proven, natural skin rejuvenation medical procedure uses a Genuine Dermaroller™ to produce thousands of micro-needle columns in the skin. The small, precise lesions cause the natural healing processes start immediately leading to a fast recovery of the skin (often in the same day).
After a Dermaroller™ procedure your body will naturally repair and regenerate your skin. Over a period of a few weeks new skin cells and collagen is produced as part of the healing process and blood supply to the area is enhanced.
Excellent results can be achieved by combining Dermaroller treatment with PRGF® (Plasma containing protein and growth factors) A small sample of blood is taken and the plasma isolated. After the Dermaroller™ treatment the plasma is massaged into the columns to speed up healing and improve rejuvenation effect.
Usually a series of 3 treatments approximately 5-6 weeks apart are recommended. Depending on your particular skin complaint it may be necessary to increase the sessions required.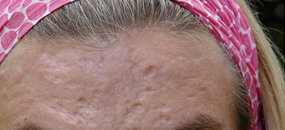 before treatment
after treatment
The procedure
Following an initial consultation an appointment would be scheduled for 1 hour.
A topical anaesthetic cream is applied on target areas and it usually requires 30 minutes to numb the skin.
A small blood sample is taken and requires 8-10 minutes to isolate plasma.
Depending on area treated the Dermaroller™ skin rejuvenation procedure usually takes 20 -25 minutes.
Immediately after the procedure your skin may feel warm and tight and it may look like moderate sunburn. This will lessen after 1-2 hours and patients usually recover the same day. There may still be redness the following day.
Recovery cream or a mask may be applied if PRGF® is not used.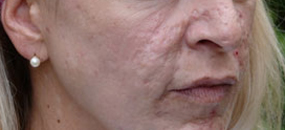 before treatment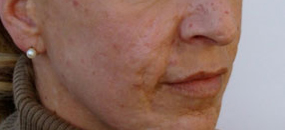 after treatment
For more information on Dermaroller skin rejuvenation please call us on 01234 352069 or email info@5deparysdental.co.uk.