porcelain veneers in Bedford
Restore your natural smile with cosmetic veneers
What are veneers?
Veneers are thin facings made of porcelain that is bonded on to the front surface of the tooth to alter colour, contour, position or a combination of all three. Veneers have the effect of rejuvenating the smile giving a much more natural appearance.
Unlike caps and crowns, porcelain veneers only cover the front surface of the tooth. They are individually handcrafted from porcelain by a highly skilled experienced technician. Porcelain veneers are very strong and last up to fifteen years, providing a lasting smile. People will not know you've had the treatment unless you tell them.
Why choose porcelain veneers?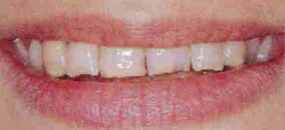 before treatment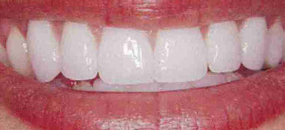 after treatment
porcelain veneers are very versatile, they can be used to enhance:
Damaged and Chipped Teeth - Chipped or damaged teeth from trauma or tooth decay can be easily made perfect with veneers.
Worn Teeth - People who grind or clench their teeth or have an uneven bite tend to wear their teeth down, veneers are a brilliant option to restore the teeth to make them look natural again.
Discoloured Teeth - If your teeth are very badly discoloured then veneers may be a better option than teeth whitening.
Crooked Teeth - Veneers can hide crooked teeth. Orthodontics is another way to straighten crooked teeth. If you do not want to wear a brace for some time (6-18 months normally) then veneers could be the right option for you.
Gaps - A very common problem that veneers can correct.
People with gaps do not even want to smile sometimes as they are too embarrassed!. With veneers we can evenly close gaps and give you a symmetrical smile.
What is the veneers treatment process?
It may be required to remove some of the outer enamel surface of the tooth, to allow the veneer to be fixed permanently in place later. To make sure there is no discomfort, we may use a local anaesthetic, but often this is not needed. Our dental team will then take an 'impression' (mould) once the tooth has been prepared. Finally, the colour of the surrounding teeth is matched on a shade guide to make sure that the veneer will look entirely natural.
What happens after my dental procedure?
Slight adjustments can be made to the veneer after it has been fitted, but it is usually best to allow some time before any changes are made. We may ask to see you a week from fitting your veneers for a quick check up and to make sure that you're satisfied with the result.
Veneers can last up to fifteen years, so we recommend regular routine check ups at your dentist to ensure the treatment is lasting. This will keep your teeth looking natural. Veneers are easy to look after with no special care needed.
Why choose 5 De Parys for your veneers treatment?
I am extremely happy with my new teeth. I started the process in April, and finished at the end of May - it was such a smooth, hassle free process, and Shakir Mughal did an amazing 5* job. He has totally transformed my teeth and not only my smile, but confidence too. I 100% recommend him and 5 De Parys Avenue to anyone who needs veneers!
Visit our testimonials page to read more about what our patients have to say about their experience at 5 De Parys Dental.
The price of our porcelain veneers start from just £350. We also offer 12-month interest free payment plans among other payment options. Please click here for more information, or call us on 01234 352 069.
When can I start?
The next step towards a more natural looking, healthy and confident smile is to get in touch and speak to a member of our friendly dental team. Enquiring will give you an opportunity to discuss availability, payment options and any other questions you may have. Please fill out the enquiry form towards the top of this page or call 01234 352 069.