teeth whitening in Bedford, Bedfordshire
If your looking for a teeth whitening professional in Bedford who has an excellent reputation for effectively transforming discoloured teeth at affordable prices then your in safe hands.
Discoloured teeth are the bane of smokers, red wine, tea and coffee drinkers and even some people who have had antibiotics as a child.
But don't despair, a safe and effective remedy is only a smile away!
We have two procedures for teeth whitening:
The Zoom! in-surgery whitening system
Nite White take home conditioning system
The Zoom! in-surgery whitening system
Zoom! will make your teeth dramatically whiter in less than an hour. The procedure is simple. It begins with a short preparation to cover your lips and gums, leaving only your teeth exposed. The Zoom! Whitening Gel, was designed to be used with a specifically designed light. The Zoom! Light and gel work together to gently penetrate your teeth, breaking up stains and discoloration. With proper care you smile will sparkle for years.
The cost of the 'In-Surgery' Procedure includes the provision of an 'At Home' tray system.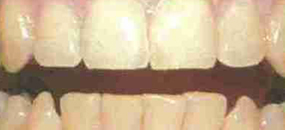 before treatment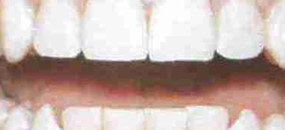 after treatment
The Nite White home system
This system uses a mild solution of whitening agent on a custom fitted tray that is worn over your teeth. While you wear the tray the bleaching gel gently whitens your teeth. The trays can be worn either during day or night. Results will be seen within two to four weeks.
According to research, both methods of whitening are perfectly safe for teeth and gums. That's because the tooth structure has not been changed, just the colour. Coffee and red wine drinkers may need to re-brighten their smile by wearing the tray for 1-2 nights every 4-6 months.
Booking a teeth whitening treatment in Bedfordshire
If your looking for professional teeth whitening in Bedforshire and want to make a booking or just need further advice, please contact us using the enquiry form or call us today on 01234 352069.