white fillings in Bedford
Should your tooth be broken or worn you may require a filling.
Amalgam-free fillings (containing no mercury) are becoming more and more popular for health as well as cosmetic reasons.
do I need a filling?
You may require a filling if your:
Tooth has a hole
Tooth has decay
Tooth is worn down
Tooth has a crack
Tooth needs restoring
White fillings, which are also known as composite fillings, allow teeth to be filled and rebuilt utilizing more aesthetically acceptable materials.
They do not contain mercury and are an ideal choice for achieving long-term strength in filled teeth. Deciding to have a bonded white composite filling means that your tooth will increase in strength and become more facture resistant as the filling is bonded to the sidewalls of the tooth thus increasing its strength and reducing the chances of fracturing occurring. This allows your teeth to be safely and aesthetically restored achieving a more attractive smile.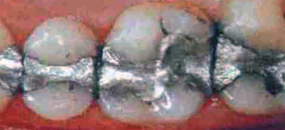 before treatment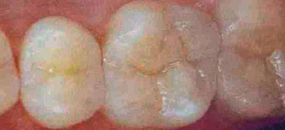 after treatment
alternatives to fillings
If you require a large filling then an inlay or a dental crown may be stronger as large fillings are not the best solution for big cavities.